Smoktech R Tank Review & How to
The Smoktech R Tank (or Hyper SRT II if purchased from GotVapes) in the approximately 4 months that it has been out. Seems to be one of the few overlooked RBA's. Even now I can only find very few mentions of it on the internet. I can not understand why this is so. Since first purchasing it 3 months ago. this has become my favorite go to tank. So much so that I find myself vaping 2 tank fulls a day. Not only does the flavor and vapor match my Genesis RBA's. The ease of building or rebuilding my wick and coil is unmatched.
Here is how it comes packaged.
It comes ready to fill with a 2.0 coil and silica wick and 3 extra wick/coils in 2.0,2.5,&3.0 ohms in a nice box.
I used the factory wick/coil for about a week and was very satisfied with the results very good vapor & taste. It appeared to be wrapped neither to tight of loose as they sometimes are. But after that first week I was eager to see how well it worked with other materials. This is where it seemed to really shine. After trying various wick and coil combinations I seemed to have found one that for me combines ease of use, reliability, and great flavor. Without having to modify the RBA itself.
While I will admit it doesn't look as sleek and sexy as some of it's RBA cousins. I think of it along the lines of a faithful workhorse type RBA known for its reliability instead of looks. That's not to say I don't like the way it looks because I do. Here are some samples of how it looks on various PV's. I do not yet own one of the tube mods so can't show you on those but I would think it would look even better.
Of course as with any man made item there are a few negatives.
1, They need to design a better fill hole plug. It comes with a very small & slippery silcone piece. It is very easy to misplace (which I did about 2 weeks in and have never found). I had to replace with a jury-rigged item. It needs to be bigger or connected to the tank somehow.
2. Sometimes when I remove the top cap to refill. When I have screwed it back on I see a little seepage of liquid around the gap between cap and tank. I wipe it down and no more leak. Seems to be condensation from inside cap. Maybe a better o-ring seal is needed.
3. The bottom cap is very tight and sometimes hard to unscrew by hand. But when you put it back on you have to tighten it down as much as possible other wise no positive connection. Maybe they need to make center tube just a hair longer.
4. The box it comes in and some of the sites that sell it claim it's a 4 ml tank. The most I have been able to put into it is right around 2.5 ml. I have a feeling there counting volume of the entire RBA including the top cap which can only hold air and vapor not the tank itself. Some of the sites have started to put actual amount in their ads.
None of these negatives have prevented me from using it everyday tho.
Here is a picture of what it looks like disassembled.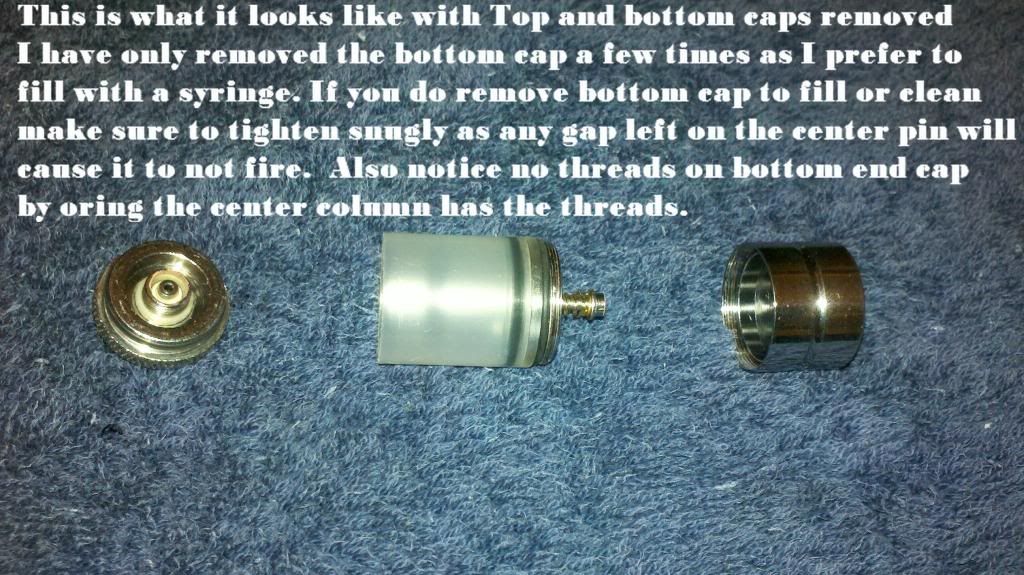 Recently I have seen a post (by I believe BuffaloBob) asking about what specialty tools are needed to re-wick and coil. I had put this kit together for myself a while back and with it have been able to build,rebuild,and repair just about any type i have come across. It is nothing special but it works for me.
Here is what my kit contains
Silica Wick
Cotton Embroiderer thread
Cotton makeup pads
Peaches and Cream Cotton yarn
Cotton Balls
Stainless Steel Mesh 400 & 500 (Not shown)
All cotton wicks are boiled with 3 water changes. Hung up to dry overnight and stored in plastic bags until ready to use (Some people seem to taste the cotton after boiling it but I am not one of them. Even on a brand new wick all I taste is a clean and very strong flavor of my juice. Because of that along with cost and ease of use my wick of choice seems to have become the Peaches And Cream Yarn.)
3 sizes of kanthal wire (28,30,&32)
Small nail clippers
Wooden toothpick and plastic toothpick
Push pin needles
A type of dental pick
Set of Jewelers Screwdrivers
Allen Wrench (For DID Clone)
What follows is what works the easiest and best for me (YMMV). After much Trial and only a little error I have found that 1 strand of peaches and cream yarn, paired with 1.3 ohm coil of 30 gauge wicks the best and gives me the most vapor and flavor on the majority of my PV's. But with taste being subjective you might want to experiment and find what works best for you.
(I recommend you have a multimeter on hand to double check yourself that you didn't inadvertently short your coil wires together. Also be aware of the limits of your PV some have protection and some don't so you might not want your ohms so very low). That of course is easily remedied by adding more wraps.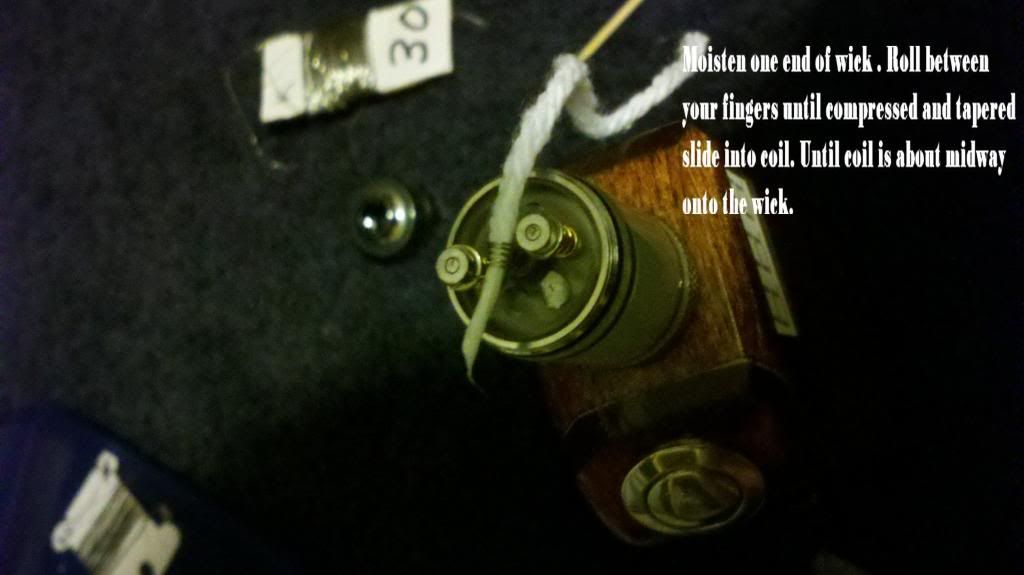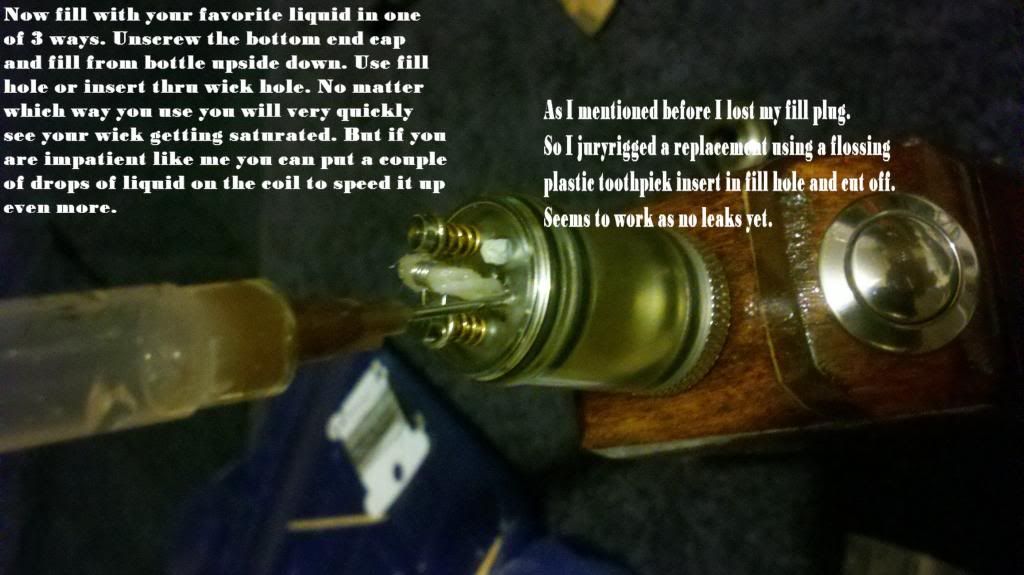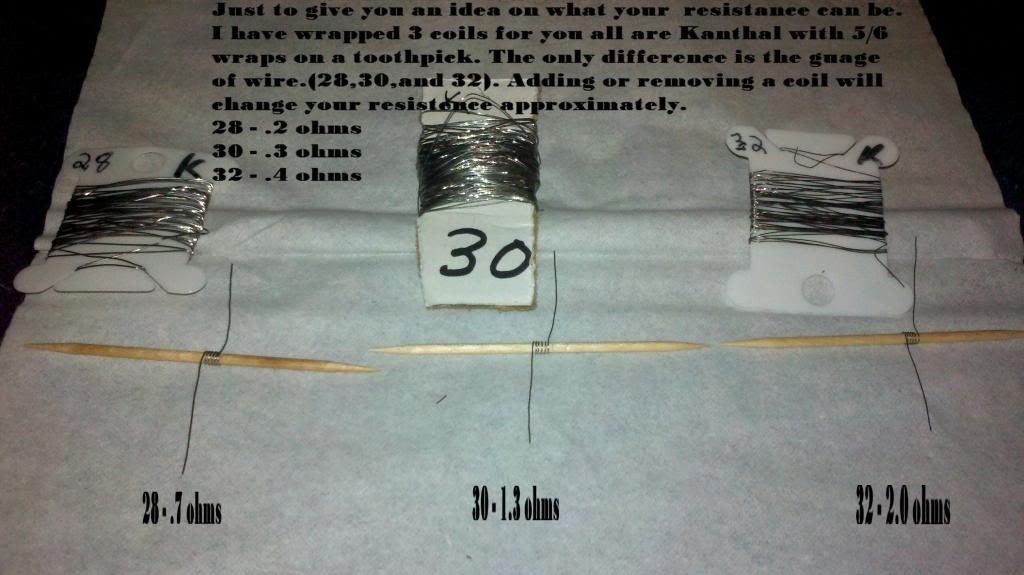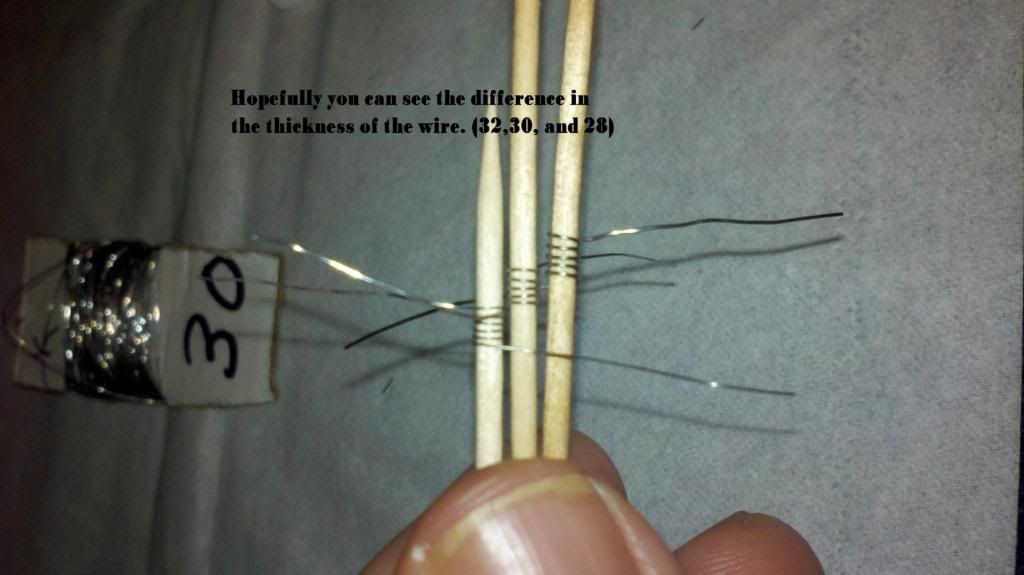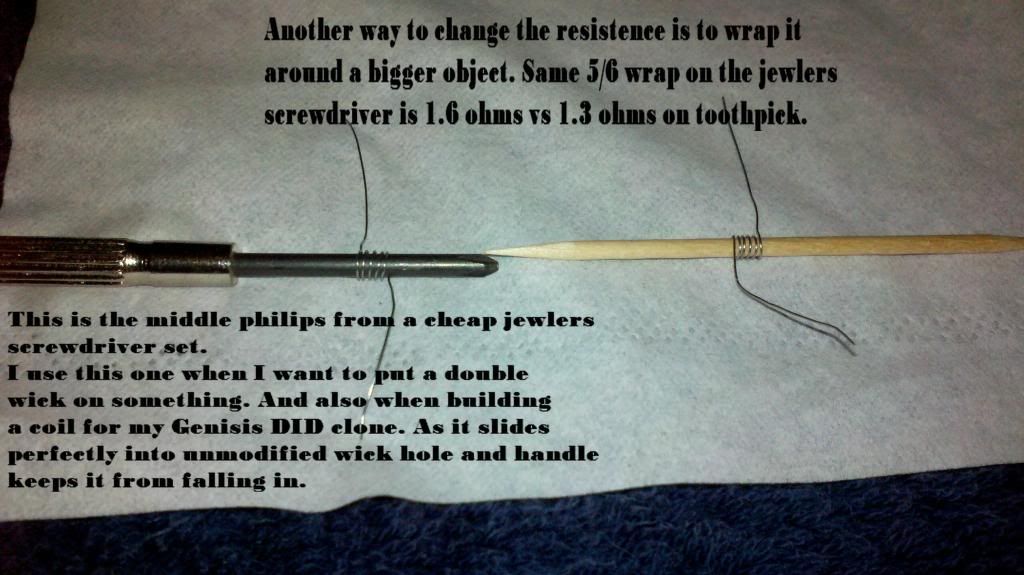 As you can hopefully see it is the easiest Rebuildable Atomizer I have come across so far. That includes the Rebuildable Dripping Atomizers also. And this one comes with a tank.
I definitely plan to buy some more (with the added bonus that the prices have continued to drop since they first came on the market).
Just for your info I use same kit to rebuild other types with some modifications,
Thank you for reading. If you have any comments or critiques please feel free to post. I welcome them all.
P.S. If it seems that people enjoy or learn from this. I do believe I will do some follow up How to rebuild one's like CE3, Vivi Nova, CE4, phoenix, and others. .