I know a lot of people don't care for them but i have found it get more milage out of them than my tanks. I watched a you tube video on how to fill and use and that made so much difference. The first time you fill once its really simple you just find the small hole on the side of the rubber ring and fill. Not to the hole though. The second time you must pull out any excess air. When you see the juice run out of the top down the side you have it. Then fill up again. If you have some juice remaining always keep the needle below the line. It works every time for me. I have only had a couple leaky carts since I have learned how. Mainly it was clear juice and i just overfilled. The easy part of that is to get a paper towel and blow through the mouth piece until nothing is coming out of the carto..make sure your equipment is clean of any juice and your back in business. Now if someone can get my tanks to work that good consistently I might change lol
If you are just wanting to get into the vaping world or maybe you just prefer the mini over a larger e-cigarette, odds are you have many options to choose from and have had many companies wanting you to try their products for various reasons. And with every brand saying that they are the best it is a very confusing time trying to search for the right starter e-cig.  The VOLT by Smokeless Image and The Blu are two e-cigarettes I feel that any newbie vapor has probaly come by before.  So I decided to give them each a test and to review my personal opinion on the two.
I recently started vaping again since having a bad run in a few years back with a store bought E-CIG. Needless to say there are thousands of more products on the market today than there was a few years ago. Now you have choices between mechanical and Variable Voltage.  Each of them have their advantages and disadvantages. Plus there are so many to chose from regarding size, height and just about everything else you could imagine. I personally like the Ego when I am fishing because if I happen to drop it in the water I won't be disappointed.
My goal is to have 20 Mechanical and 20 Variable Voltage by the end of the year. To me it's like collecting and who knows what the value of some of these will be in the future. I promised myself that I would budget this like I do everything else from bills to monthly spending money, but it is tough to do when you run across a co-op and can save over 90% from a product.
I am also getting into the RBA's and will be making my own coils and more than likely my own MOD's. There is actually a lot of money to be saved when you can build your own things especially coils. When clearo's and such start costing over a $1.50 a piece it makes sense to build your own coils for your tanks or drippers for pennies on the dollar versus shelling out the cost and shipping fee's.
Anyways, my name is Chris and I am a VAPOHOLIC!
I pull up to the end of my driveway, yet another end to ye
t another workday. As usual, I open my driver's door and step out into the street. The standard grunt and groan as my back and legs are stretched shortly follow.  I walk over to my mailbox to fetch my daily junk mail, already keeping in mind that spot on the floor of my truck where it will no doubtingly end up.
What's this? A strange plastic envelope-like container rests in my box, clueless as to what it may be, I reach in and examine it. There must have been some mistake, I hadn't ordered anything. A quick look over of the package and oddly, it is addressed to me. A series of possibilities flash through my confused mind, to no avail.
I then recall that strange text I received from my father the week prior, asking for my exact address with no explanation or reason. Hmm, two and two go together easily enough I suppose, but what could this object be? The sender was some company whose name I had never heard of, and no other clue was presented externally.
Wanting to get home to let my dogs out back, I climb into the truck and crawl up the hill to my house. Once inside and my pup's bladders emptied, I open the package to reveal an item I knew of but had never seen before.
An electronic cigarette.
Ugh, I remember my parents talking about them to me over the phone some time ago, this odd techno fad in which I had no interest. But what the hell, I open the box, read the instructions and plug the battery in.
Plugging in a cigarette, what a foreign concept.
Earlier today I was visiting with my cousin (she started vaping just a few months back) and the discussion turned to where can you vape and where can't you vape.   In most all of Central Florida there are no vape bans/laws yet…it's still (rightfully) up to the business proprietor or property owner as to whether you can vape somewhere or not.  Things may be different where you are.  But much like passing gas, just because you can doesn't necessarily mean you should.
Look, I'm no Vape Etiquette Master; and I'm certainly not some fount of Vaping Rules that one should follow — but sometimes all it takes is basic common sense and a little courtesy.  One of my rowdier vaping buddies, Rick, usually has a healthy bit of both — but not always; especially after a few vodka-based beverages….
Last week we were at a small neighborhood dive kinda bar having a couple drinks when I asked the bartender if it was OK to vape in the place.  "I'd prefer it if you don't," the guy said.  "If you want to do that, you can go out to the patio around back.  With our crowd, it's just easier that way."
Looking around the place, I got the gist of what he was saying.  There was a pool table smack dab in the middle of the floor, some electronic dart machines against the wall near the front door and an assortment of hard-scrabble types scattered about the place.  So after coming back in from the patio from grabbing a quick vape, Rick asked "Where'd you go?"
"Out back to grab a vape."
"Out back? Screw that," he said and grabbed his SB and worked up a huge cloud of vapor.  There were some murmurs and gibbering at the sight of this cloud heading toward the pool table, and some guy in a leather jacket broke out a pack of Marlboros and lit one up.  "Hey, you can't smoke here," the bartender said as discreetly as possible.
So I've been thinking about all the different e-liquid flavors there are to choose from.. The possibilities are endless. It's as easy as ordering some e-juice online and then vaping it. However, you're bound to get bored with vaping the same flavors all the time. Most people already know this, but you can always mix your e-cig flavors.
Say you have some chocolate.. Try mixing that with almond, coconut, and some creamer or sweetener.. Bam! You pretty much have the flavor of an almond joy that you can tweak to your liking. You always have the option to make something that appeals to you.
If you have a list of 100 flavors.. Then just by looking at that list, you have thousands of possibilities for different flavors! I'm not kidding when I say the possibilities are endless.. You just need to have a creative mind and the will to sit down and think about it for a few minutes. For some, it's pretty difficult. ..But for others, it's as simple as writing down some things in a notebook for ten minutes.
I have gathered a few lists and sites for you guys to browse through that are absolutely filled (and I mean JAM PACKED) with flavors, flavor ideas, and different mixtures.
ok, so i have been using pre-made coil and wicks for my RBA's… they can be pricey, but they are good to have around, so I have heard…
I installed a brand new premade on my phoenix RBA, and it was a big fat MEH, the draw was to airy, and I haven't had this muted flavor since i was vaping on the T system lol. decided that I had to do something about this!
either way I made an order awhile ago and got some kanthal and silica wick.
BTW i have no idea what gauge this kanthal is.. it came with the igo mini.
Decided to break in the igo mini SS.
And fyi the igo is pretty good, vaping on it right now, good draw and easy to put together!
so i scowered youtube, and rewatched optimos video.
I really like optimo, IMO he is right up there in my top reviewers!
The other day I decided to upgrade the switch of my Chi You, the switch is currently using a spring and I want it to use magnets instead. So i pull out my caliper and took some measurements, then found a website that sells the ring magnet that I need, but after adding the two very small magnets that cost 95 cents each they wanted $6.60 for shipping. So i thought there is a lot of people who would also like to do this, I was figuring I would get five other people to join in and save some cash. Well it got out of hand very quick, with in a hour I had fifteen people wanting in, so I thought "Why not it will save us more the more we have." So the biggest thing I want to tell you guys is if your are in a Co-Op, THANK the person running it, it is very difficult. Secondly they get the same question a lot so cut them some slack if they don't answer right away.
Because this was going to be a small quick co-op I only had it open for about ten hours, and in that short time I now have 26 people in it ordering a total of 284 magnets. So if you are interested in doing one I would like to share some tips on how to set it up and keep it organized.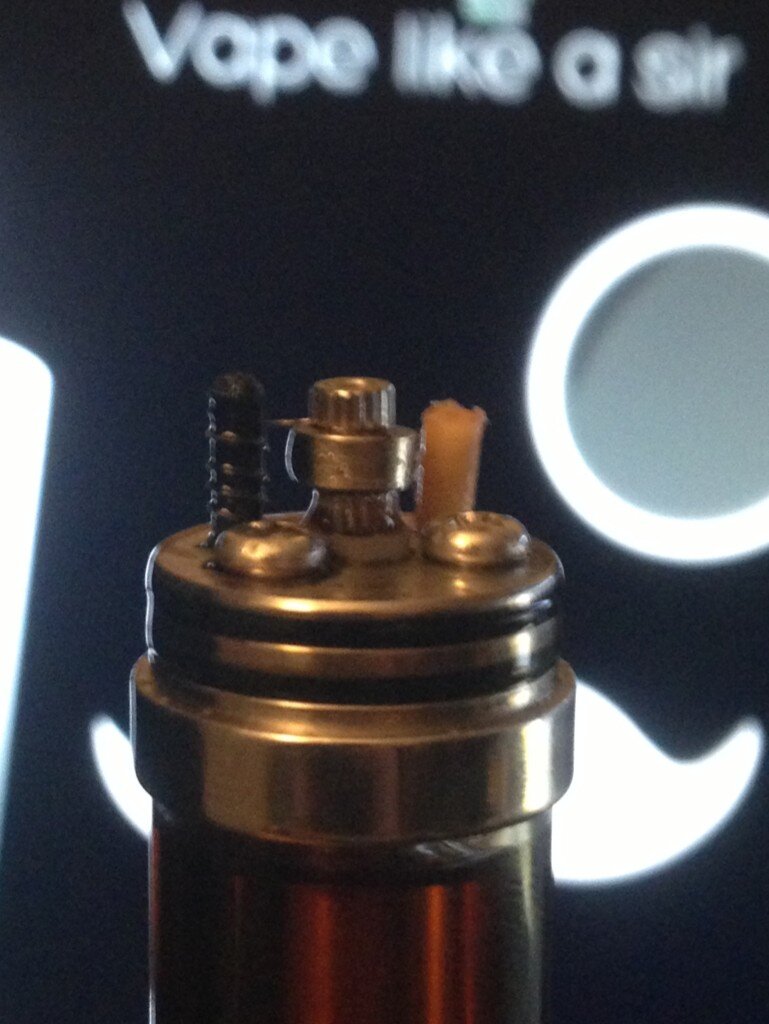 So after watching Todd's video where he showed the AGA T2's center post with a spring. I thought I could do that myself, so I looked around couldn't find anything.
I sit here this morning, new Vamo in hand, enjoying a little semi-DIY juice. A mix of Flavour Arts Tobacco Blend and The Vapor Rooms 'Apple Pie'. Umm, tasty! Well, it is now. You see, before the arrival of 'Sparky' (see pic), I would fill my Mini Vivi Nova with this mix and put it on my Ego battery, and the flavor was "pretty good". But now, it is 'Vamolicious'!!! The ability to increase and decrease the power makes all the difference. A half a watt here, a half a watt there allows you to really zero in on the flavor you like. Too sweet? Turn up the power. Too harsh or bitter? Bring it down a little bit. Until BINGO!!! Heaven!!!
I know, some of you Vaping Vets are saying, "Duh", but some of the newbies, like me, haven't experienced this yet.
I'm not saying you can't enjoy a good vape without a mod of some kind. I keep my Egos close by at all times. But, I now know that you can't completely appreciate the fullness of the juice, whatever the flavor, without being able to 'tweak' it just a little.
It's easy to spend a bunch of $$ on juices, tanks, cartos, RBA's, on and on and on.. 
 .. We've all done it, and most likely, still are, it's just the nature of the beast. But, if I could give just one piece of advice to someone just getting started, it would be this… Buy a MOD!!! Whether you are trying to quit smoking or just want to enjoy your vape, being able to 'like' your juice is the answer. It won't fix a bad juice or make you fall in love with one that you just can't stand, but it could help you to find the 'sweet spot' on one that just wasn't quite there for you.
Besides, you can't name a battery that you are just going to throw away!!!
So I say, get comfy Sparky, you and I are gonna be friends for a long, long time.